Part of the 0 A.D. Gameplay Manual
Setting up a game
Under Construction, in the mean time, please see the in-game manual and ​http://trac.wildfiregames.com/wiki/Playing0AD
Setting up a single player game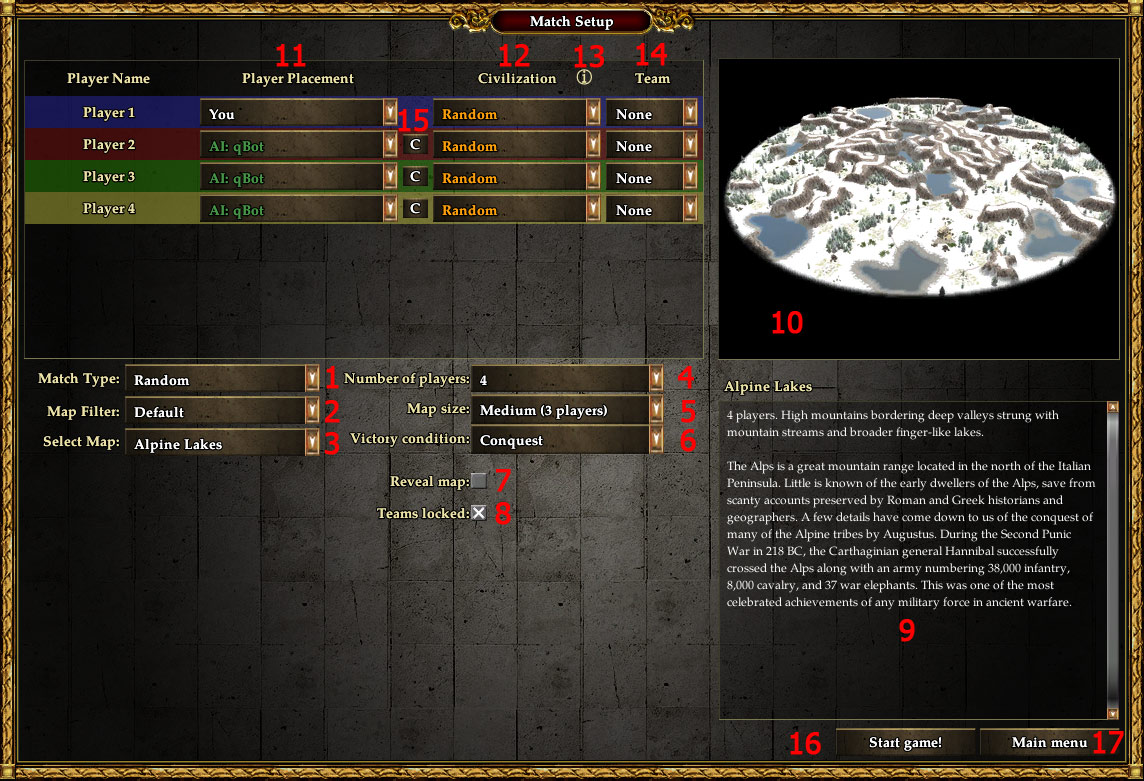 1. Change Match Type
Currently only scenario, but random maps and other game types will later be selectable from here.
2. Change Map Filter
Default: Maps for general gameplay.
Demo Maps: Maps which are created for demonstrating a specific purpose, rather than for general gameplay.
Old Maps: Maps which are outdated for different reasons, might be broken or just not up-to-date.
All Maps: Every map that is installed.
3. Select player for this slot
Can be either: You (as in you the human player), an AI, or Unassigned for no player (if there are units already on the map for that faction they will remain on the map and will attack if you get too close, but no new units will be created).
4. Change AI options
Click the 'c' to see a description of the AI as well as to set any settings provided. For the AIs provided with Alpha 4 there are no settings, but future and custom AIs might provide settings, and a description is included for all AIs included with Alpha 4.
5. Which Civilization
Displays which civilization the player in this slot will be. For now the civilization is set in the map files (more specifically in the XML file for the map), and for scenarios that's likely to remain the case as they often are set up to work with that specific civilization, but for Random Maps you will also be able to change which civilization the player who's going to play in this slot will play as.
6. More info on civilization
Click the
7. Which Team
8. Map Selection
9. Map Info
10. Map Size
11. Reveal Map
12. Victory Condition
13. Teams Locked
14. Start game!
15. Cancel
Setting up a multiplayer game